Back to Checkout
Member-Only Generational Plant-Based Insights [October 2023]
Data & Research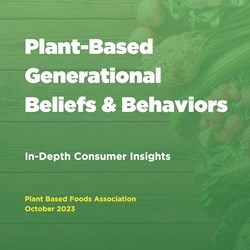 The Generational Insights Pro-Deck contains up-to-date, in-depth generational consumer insights from data providers including Mintel, 84.51, and Technomic. Insights cover consumer demographics, consumption motivators, consumption beliefs and behaviors in both retail and foodservice, and e-commerce insights and trends.
Members will be able to leverage these insights internally for their planning or strategies and can request approval to use insights externally.
Members also have exclusive access to our report explainer video led by PBFA Data Analyst, Linette Kwon. Watch the presentation here.
---