Back to Checkout
Uncovering the Unmet Needs of Plant-Based Consumers Report [March 2023]
Data & Resources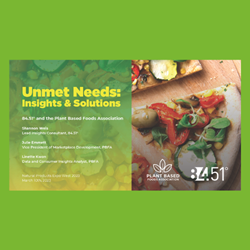 As the plant-based foods industry continues to scale and diversify, obtaining a deeper understanding of the plant-based consumer is crucial for brands and retailers alike. Our latest cutting-edge report, "Uncovering the Unmet Needs of Plant-Based Consumers," is designed to illuminate crucial consumer sentiments: This first-of-its-kind research leverages insights from Kroger's plant-based food shoppers to hone in on what the plant-based industry needs to prioritize to meet the needs of consumers, build trust, and create sustainable pathways for growth.
Key themes explored in this research include:
In-depth flavor insights: What consumers are craving and how brands can satisfy—and stand out from the crowd.

Key opportunities in the pre-made meals space: How is this category developing and what are retailers looking for?

Product innovation to drive both trial and loyalty: Unveiling deeper insights into taste, texture, and functionality

—and what consumers are looking for—to create even better foods.
---