Info Session: Plant Based Foods Association's Board
Learn more about the PBFA Board and apply to join!
---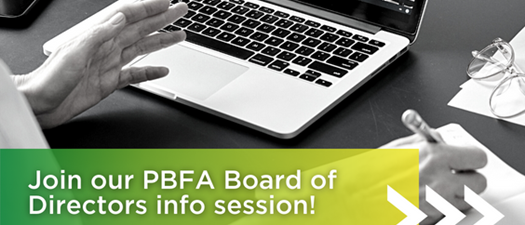 Have questions or are curious about others' experiences on the Board of PBFA? In this virtual open session you can connect with current Board members, learn more about the Board and expectations, and ask questions.
Ready to apply to PBFA's Board now? See below for more details!
Are you interested in holding a leadership role in the plant-based foods industry? Are you passionate about the mission and future direction of the Plant Based Foods Association? Do you have a unique offering or perspective that will benefit the work of our membership?
If so, we invite you to apply to join the Board of Directors at PBFA!
All individuals who are employed by one of PBFA's voting company members in good standing are invited to apply to join the Board of Directors. Voting members will elect Board members in November 2022 for two-year terms, which will begin in January 2023.

Key responsibilities include:
Serve for two full years.
Attend the following

Board

meetings (per annum):

Three 2-hour virtual meetings;
One 1 ½-day, in-person meeting (location TBD);
Five 1-hour virtual alignment meetings; and
Any additional special-topic meetings.

Become knowledgeable about the activities and business of PBFA.
Leave your "brand hat" at the door and work to advance the entire industry.
Assume a leadership role or participate in at least one activity or committee of the

Board

.
Spend 1- 5 hours per month on that one activity or committee.
Note:

Board

positions are voluntary positions.
See a full list of responsibilities here.
Please note: Even if you do not occupy a C-Suite role within your company or have not had previous board experience, we encourage you to apply if you are enthusiastic about the opportunity and have experience you feel would translate well. We are particularly keen on recruiting Board members with the following expertise and passions:
Strong financial acumen (i.e., experience building and managing budgets, overseeing audits).
Interest in advancing equity and fostering diversity within the industry.
Passion for advancing the industry as a whole.
If you are interested in being considered for a Board of Directors position, please email your CV and answers to the below four prompts/questions to boardapplicants@plantbasedfoods.org (please do not reply to this email):
Please share your involvement and experience to date with PBFA.
Why are you interested in a leadership role at PBFA?
What would you uniquely contribute to PBFA through this role?
Please share any other experience with

boards

, multi-stakeholder associations, or groups that would be helpful for us to know about.
The application period will run from September 19 - October 19, and applications will be reviewed on a rolling basis by the Board Executive Committee until this period closes on October 19th. Board-recommended candidates will then be presented to the full voting membership for a vote in November.