Plant Based World Expo
The official trade show of PBFA
---
Thursday, September 8, 2022
to Friday, September 9, 2022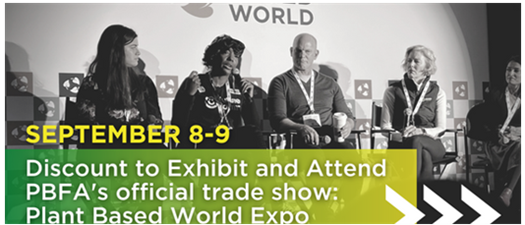 Plant Based World Expo, the official trade show of PBFA, will return to NYC's Javits Center on September 8-9th! Now in its third year, Plant Based World Expo is where you'll discover innovative plant-based products, hear from industry leaders, and connect with the right people from the trade including retailers, investors, buyers, distributors, and brokers. Last year, 3,100+ trade attendees and 200+ exhibitors and sponsor companies sampled an array of mouthwatering plant-based foods across all product categories.
We are pleased to offer PBFA members the following benefits along with your participation:
A $200 discount per 10x10 booth for company members
Pre-show and on-site designation as PBFA members
One extra priority point per 10x10 for booth selection in future years
One additional Exhibitor Conference Pass per 10x10 booth
Access to PBW show management for guidance and cost-saving tips
Interested in exhibiting? Contact Sam Morley, Sales Director: 203-307-2684, sam@jdevents.com.