Back to Checkout
State of Plant-Based in Food Service Report [February 2023]
Data & Resources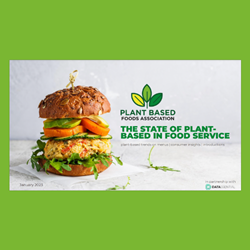 Demand for plant-based foods is growing, and food service settings like restaurants, school and hospital cafeterias, and corporate catering all play a key role in helping plant-based food brands meet hungry consumers where they are. This growing opportunity for plant-based companies has inspired many brands to turn their focus toward this fast-growing space, and here at PBFA, we're committed to making sure our members are best equipped for success in the unique world of food service.
As part of this commitment, we've invested in a robust partnership with Datassential designed to identify key trends and predicted growth for plant-based menu items. Recently, Hannah Lopez, PBFA's Director of Marketplace Development, Food Service, hosted an exclusive member webinar featuring Marie Molde, Trends Analyst and Registered Dietitian at Datassential, to share key findings from the PBFA and Datassential collaborative "State of Plant-Based in Food Service" report. Findings from this report serve as the baseline for understanding how plant-based foods are performing across food service menus, leveraging cutting-edge consumer insights, and building data-driven context to inform the potential for future plant-based growth.
PBFA members can view the recording of the accompanying Datassential webinar and exclusive additional insights by clicking here.
---