Back to Checkout
Plant-Based State of the Marketplace - Foodservice [July 2023]
Data & Resources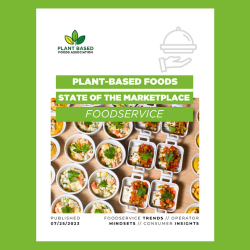 The Plant-Based Foods State of the Marketplace: Foodservice report offers a detailed look into how the plant-based consumer differs from foodservice to retail, highlights the dollar opportunity in plant-based foods for foodservice operators, and shares the latest trends in plant-based menus. In a food landscape where health, sustainability, and innovation are top-of-mind for consumers, the report shows that plant-based foods have emerged as a dominant force in foodservice.
A few highlights from the report:
Nearly half of all restaurants in the United States offer plant-based options on their menus, with a 62% increase in plant-based menu items over the past decade.

Operators anticipate increased or stable sales of plant-based food and beverages in the next year. Four times as many operators plan to add plant-based meat to their menus in 2023 compared to those who plan to remove it.

Plant-based foods enhance the restaurant experience for a significant number of consumers, particularly Gen Z and Millennials.
---